A rally will be held on Saturday, December 12th, 2020 in Washington DC.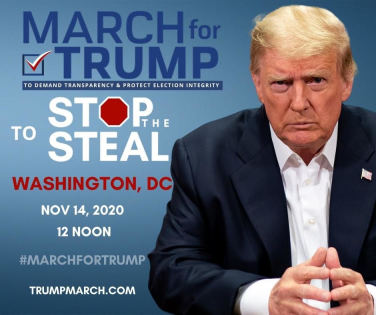 Location: Freedom Plaza, 1301 Pennsylvania Ave. NW, Washington DC
Website of organizers: trumpmarch.com.
From the trumpmarch.com website
WHAT: On Saturday, November 14th, hundreds of thousands of American voters traveled to the nation's capitol and said ENOUGH! Outraged and infuriated by what Joe Biden himself called the "most extensive and inclusive voter fraud organization in the history of American politics," these American patriots stood in unity to demand that every legal and legitimate vote be counted.
WHO: Grassroots supporters of President Donald J. Trump and Conservative leaders (Speakers list TBA) Women, men and children welcome. FYI… We are the FaceBook group "Stop The Steal" that grew to 365,000 people in 22 hours before FB shut us down. We were growing 1,000 people every 10 seconds. Help us continue to spread the word after Big Tech shut us down by inviting 10 of your friends!
WHEN: Saturday, December 12th at Noon
WHERE: Freedom Plaza, 1301 Pennsylvania Ave. NW, Washington DC